From Airport
An Airport Shuttle Bus connects Asahikawa airport and the city center (JR Asahikawa station and most hotels) in approximately 30 minutes. The buses depart from bus stop 1 at the airport and reach JR Asahikawa station by 620 JPY.
The timetable of bus is here.

If you arrive at New Chitose Airport in Sapporo, you will need to go JR Sapporo station from the airport using the JR Airport Express and change to Limited Express "Super Kamui" which runs hourly. From Sapporo to Asahikawa, it takes approximately 1.5 hours. The timetable of Super Kamui is here.
Detailed information on the railway is provided by JR Hokkaido.
From Sapporo to Asahikawa by JR, discount tickets are available. For more details, please visit here.

To Venue
During the meeting, shuttle bused are scheduled to run from main hotels to the venue. The buses are scheduled to run three routes. The bus timetable is as below.


The buses have a sign of "JTB Asahikawa" on the front window. No tickets are necessary to take these buses.
Day 1
Route 1: Art Hotels (8:45) == Hokkaido University of Education (9:00)
Route 2: JR Inn (8:20) == Hotel Route-Inn Asahikawa Ekimae Ichijo Dori (8:30) == Smile Hotel (8:35) == Toyo Hotel (8:45) == Hokkaido University of Education (9:00)
Route 3: Hotel Crescent (8:30) ==Asahikawa Grand Hotel (8:40)== Hokkaido University of Education (9:00)

Day 2 & 3
Route 1: Art Hotels (8:30) == Hokkaido University of Education (8:45)
Route 2: JR Inn (8:05) == Hotel Route-Inn Asahikawa Ekimae Ichijo Dori (8:15) == Smile Hotel (8:20) == Toyo Hotel (8:30) == Hokkaido University of Education (8:45)
Route 3: Hotel Crescent (8:15) == Asahikawa Grand Hotel (8:25)== Hokkaido University of Education (8:45)
If you stay in a hotel that is not listed above, please come to the nearest hotel among them to take the bus.
Ex) Asahikawa Business Hotel -> Smile Hotel
Dormy Inn -> Art Hotels
Toyoko Inn, Hotel Route-Inn Grand Asahikawa Ekimae -> JR Inn
(Please refer the location map below)
From venue

The shuttle buses from the venue will have different destinations and stops depending on the day. When you get on the bus, please put the

tickets provided with your delegation pack

into the collection box in the bus.



Day 1, Sept. 22 (Thu)

The buses run from the venue to JR station, stopping at 5jo-dori stop (for the location of the stop, see the last page).



10

00

10

20

30

40

50

11

00

35

12

05

35

13

05

35

14

05

35

15

05

35

16

05

20

30

40

50

17

00

10

20

30

40

50

18

00

10

20

30

40

(the underlined stop at 5jo-dori stop)
Day 2, Sept. 23 (Fri)

The buses run to JR station or Asahikawa Civic Culture Hall.



10

00

10

35

11

05

30

40

50

12

00

 

every 7 minutes

13

 

every 7 minutes

(the underlined buses go Asahikawa Civic Culture Hall)


Day 3, Sept 24 (Sat)

The buses run between the venue and JR station, stopping at 5jo-dori stop.



10

00

10

30

11

00

30

12

05

35

13

05

35

14

00

30

40

48

56

15

04

12

20

28

36

44

52

16

00

08

16

24

32

40

(the underlined stop at 5jo-dori stop)




Location Map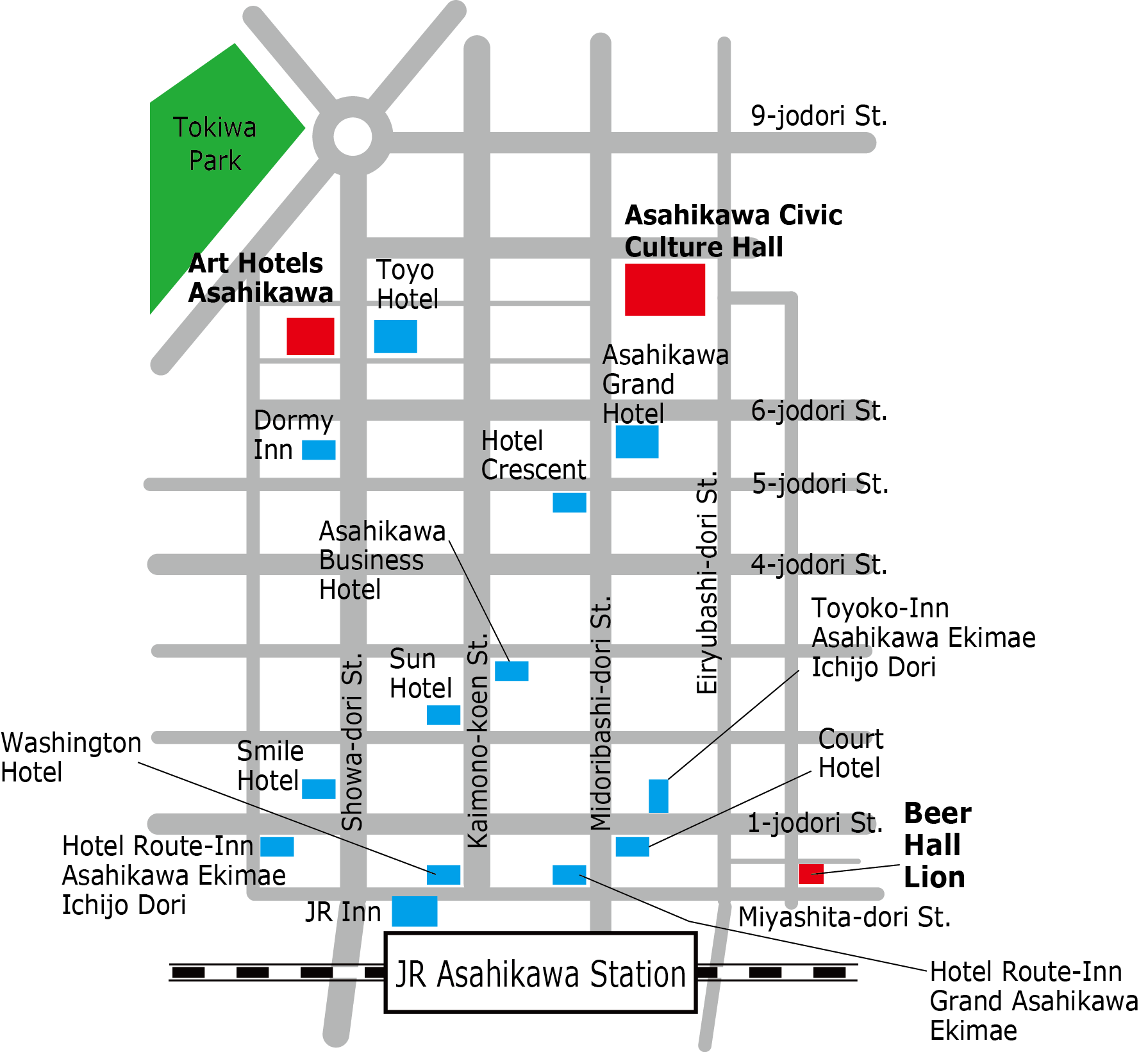 Location of 5jo-dori bus stops (for shuttle bus from the venue)